Today, at the day of writing, is April Fool's Day, which is for Dr. Wagner & Partner a reason to take a step back from earnestness and to bring a portion of humour into our beloved Flurfunk-blog. During the last busy weeks we researched heavily about the needs of startups regarding adequate workspaces and even worked on a marketing pitch for the Mars One project.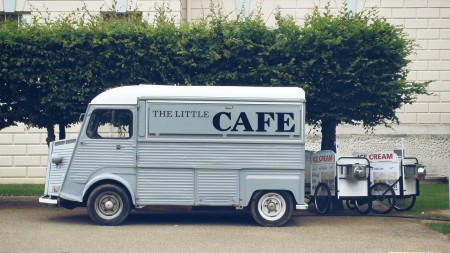 After finishing our last article I was exhausted and hungry, so I decided to do one of the most German things you could imagine: Go to a Hähnchengrill, a food truck stuffed with grilled chicken, potato salad and x-large pretzels. This inspired the new column 'Funny Workspaces' whereby the first workspace should be a food truck.
We sat down and asked ourselves how we could best tell a story about this workspace we all know and have in each culture. Usually we do not even actively notice the presence of the food truck when we pass them in a parking lot or a busy street. Except we are hungry or crave some savoury food after a night out. Students know what I speak about.
And isn't it fascinating that this food on wheels concept emerged in every culture around the globe? Some have still rolling carts, others have a bicycle to change locations or a real petrol fuelled food truck. Street food has a democratising touch wherever you go, because you can spot diplomats, bankers, builders or homeless people standing in the same queue waiting for their food.
Even Nobel Peace Prize winner Prof. Muhammad Yunus, father of the micro credit concept, mentioned the economic significance of this small business concept. During his talk at the University of Regensburg, he told that some of his first micro credit investments were given to women who wanted to offer food on wheels. Years later he was one of the most prominent and wealthy social entrepreneurs of all time by single-handedly revolutionising the credit system in developing countries.
The concept is dead-simple, because one only needs an amazing dish, a food truck and a place where you could park it. Funny about the workspace food truck might be people you meet and story they tell, but it is a very hard and tough job. Of course there are success stories like the one of Mustafas Gemüse Kebap in Berlin, but these are rare. And something else is outstanding: The productivity of each squaremeter! In office buildings people demand for at least 8 m² whereas in a food truck there is just 2 m² to do all the job. And in a chicken-gill the temperature raises above 40°, all day long. People in an office building often complain about 25 ° in summertime (s. Article "Was ist eigentlich eine Gefährdungsbeurteilung?"). Is that fair?
The rapidly changing business environment paired with a more hedonistic approach on life constantly increased the standards for workspaces. On the one hand you can find stylish co-working spaces with community areas or even basketball-fields. On the other hand you can find green, spacious offices in fancy skyscrapers with good air-conditioning, if you have an employer who is keen on employer branding. Somehow these conventional workspaces are positively developing, while certain workspaces stay as tough as they were. Dr. Wagner & Partner think that it would be possible to ameliorate most of these mobile workspaces with a relatively small capital investment for a higher convenience level in return.
Since we know how tough the business is, we want to offer a discount for our service for 10 hard-working food truck companies, who want to know how to make the most of their precious workspaces. Just send us an email under info(at)wagnerandpartner.com and put 'Food Truck' in the subject. This is not an April's fool, we promise.
In case you liked the story of this extraordinary workspace, share and like us on Facebook and make sure to post your idea for the next funny workspace in the comment section.